Marine, industrial and power generation heat exchanger repair, cleaning and service
Downtime is costly. Heatexchangers Southwest works in industries and environments where failure comes at a high price, for customers who can't risk it. When critical equipment fails, you want it working again fast. No organisation can afford to have capital assets and equipment standing idle for long. While routine maintenance is vital in preventing breakdowns, emergencies still happen. When time is pressing and deadlines are short, it's reassuring to know that Heatexchangers Southwest aims to measure turnaround times in days and weeks rather than months, and that we can come to you if your equipment can't be got to us.

PRODUCTS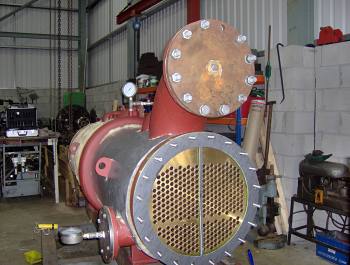 Our experience spans all types and sizes of Heatexchangers:


evaporators
condensers
jacket water coolers
oil coolers
charge air coolers
intercoolers
pre-heaters
calorifiers
ATU chiller coils and heaters
industrial and plant radiators
aluminium oil coolers
plate heat exhangers

SERVICES
In the workshop and on site, we offer a range of advisory and testing services and also provide surveys, consultancy and reports.


Full and partial re-tubes, and rebuilding manufactured components in situ
Individual tube testing, tube expansion tests and full system tests
Individual tube cleaning and chemical system cleaning
Dosing of cleaned systems to "re-burn" them in

We offer a spectrum of services, from cleaning and testing, through minor repair works, to system re-tubes – both at our factory and on-site. We can remanufacture equipment, salvaging components wherever possible to keep cost down, or manufacture a complete new unit from pattern or drawings.
Heat exchanger casings and connectors are manufactured in mild or stainless steel. We also make units and systems in non-ferrous metals and supply tubing, tube sheets and components. Systems can be supplied in kit form ready for your own engineers to install.
Our remanufactured products often make the difference between scrapping an ageing but otherwise serviceable installation and bringing it back into full working order. The technology may not be the latest thing, but there's immense craft skill in replicating a condemned unit's exact fabrication to incorporate refinements and modifications made over years of service.
In particular, we specialise in one-off manufacture of discontinued items, using the old unit as a template, to renew customer systems.